What is a documented management system?
Companies that have – or are looking to implement – ISO certifications involving the development and usage of a Management System must, as part of the Standard, produce and maintain a series of documents describing and supporting the operation of their processes. This is known as a documented management system.
What do the Standards require?
The Standards often refer to documented information, referring to any documents that describe your Organisation's processes. They don't define any specific type of documentation process or structure, and as such, the documents themselves may be held in separate locations and even kept on separate media. Such systems may be indexed and formatted similarly for convenience and ease of use, but this is not always the case and certainly isn't a requirement for certification.The International Organization for Standardization (ISO) does provide a guide to documented information for ISO 9001:2015, which sets out what needs to be documented for this Standard, but the specific format that this should take is never mentioned. The guide also doesn't cover other Standards but could easily be applied to any Standard that uses the Annex-SL structure such as ISO 14001:2015, ISO 27001:2013, ISO 45001:2018 and ISO 50001:2018.
Although the processes that need to be documented may change depending on the type of industry you are in, the general aim is to allow for a consistent level of performance to be maintained. For example, if you describe how a process is to be carried out, that process should always follow the documented format. Documentation also allows for knowledge sharing and provides evidence that your Organisation is conforming to the Standard by showing what was planned and what was done.
ISO Manuals
Up until recently, the most common method of documenting an ISO Management System was through a Manual. A Manual covered all the features required for documented information, written as a consistently formatted single document, that was easy to distribute.
Manuals followed a set structure, often inline with the structure of the Standard. This facilitated the implementation of multiple Standards within the same Manual – especially if the Standard being implemented used the same structure as the original. These integrated Manuals also helped when introducing new Standards, as staff were already familiar with the structure and what was expected from them.
Although there is now a focus on the use of the term documented management system, this terminology does not imply that ISO Manuals are defunct
ISO Management System Platforms
Some companies are looking to further the benefits they experience through an ISO Manual by opting to use a Management System Platform to manage their documentation and system needs.
At QMS we offer QMS Connect, which expands on the idea of a documented management system, offering more features than just the ability to edit and publish your documented information. QMS Connect makes it simple to document your Management System online, enabling your organisation to operate in a more structured way and ensuring responsibilities and tasks are clear to everyone throughout the business.
QMS Connect is structured around processes rather than the individual clauses within a Standard, meaning it is easier for individuals to find the information relevant to their part of the business.
How do they compare?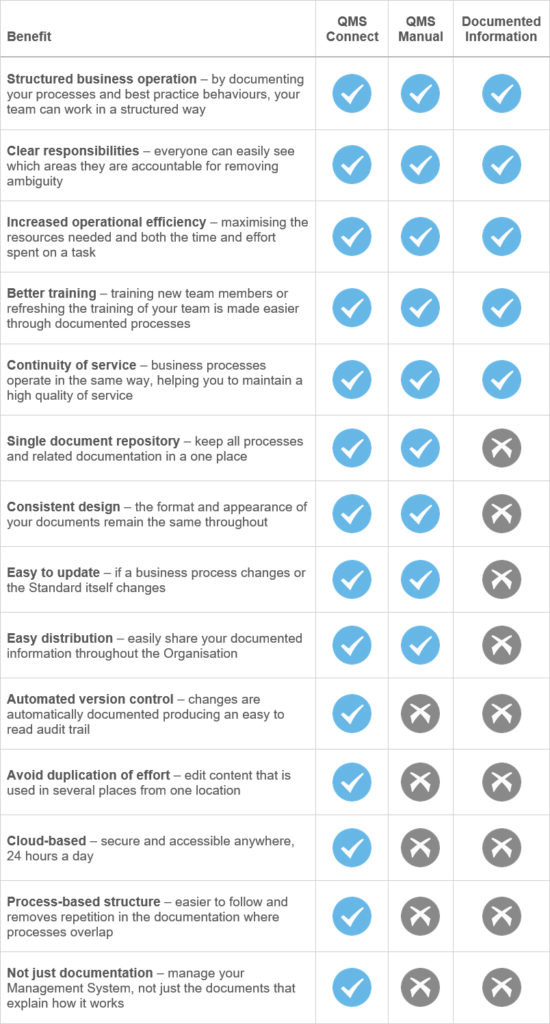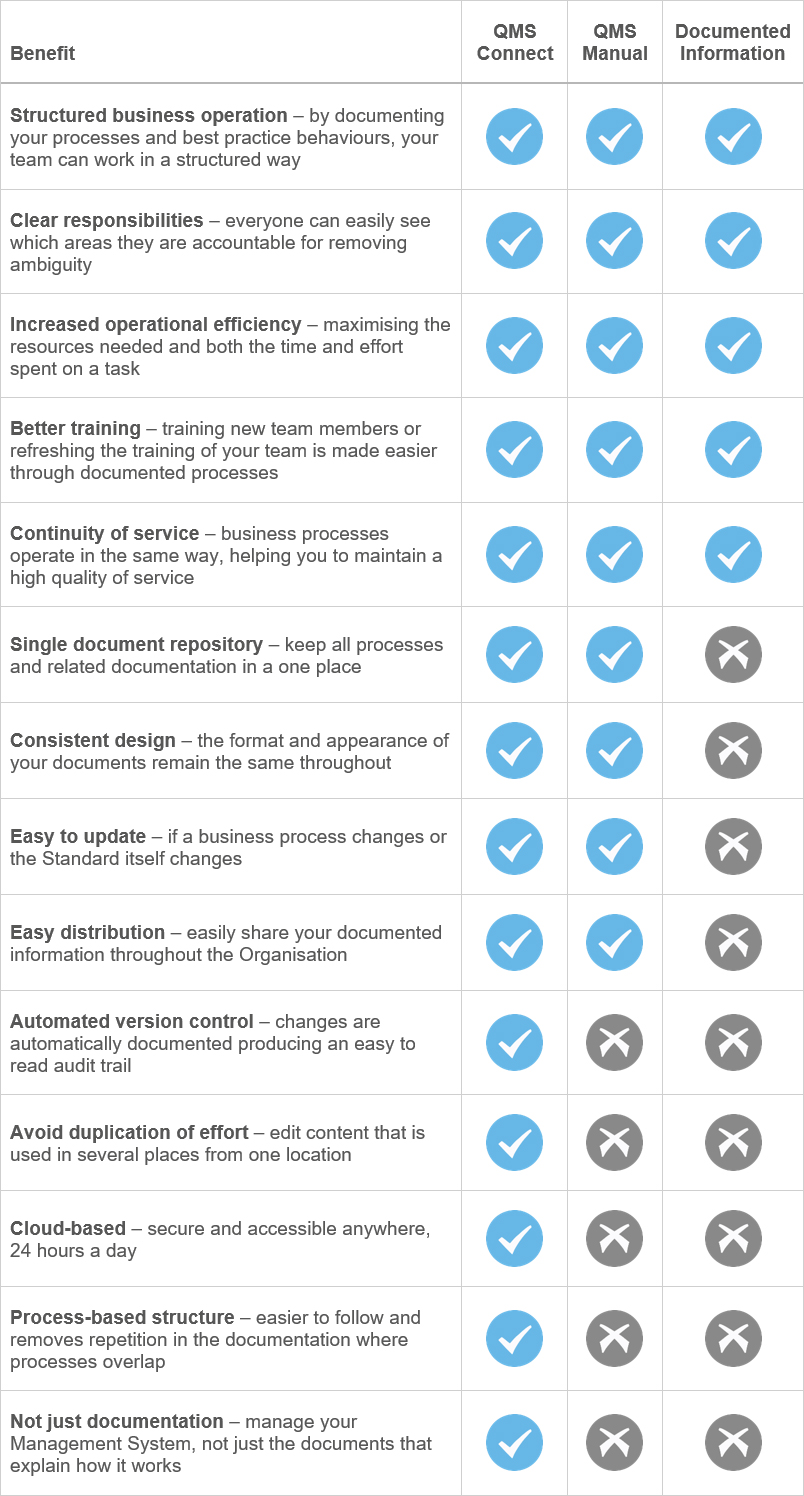 Benefits of QMS Connect:
Structured business operation – by documenting your processes and best practice behaviours, your team can work in a structured way
Clear responsibilities – everyone can easily see which areas they are accountable for removing ambiguity
Increased operational efficiency – maximising the resources needed and both the time and effort spent on a task
Better training – training new team members or refreshing the training of your team is made easier through documented processes
Continuity of service – business processes operate in the same way, helping you to maintain a high quality of service
Single document repository – keep all processes and related documentation in a one place
Consistent design – the format and appearance of your documents remain the same throughout
Easy to update – if a business process changes or the Standard itself changes
Easy distribution – easily share your documented information throughout the Organisation
Automated version control – changes are automatically documented producing an easy to read audit trail
Avoid duplication of effort – edit content that is used in several places from one location
Cloud-based – secure and accessible anywhere, 24 hours a day
Process-based structure – easier to follow and removes repetition in the documentation where processes overlap
Not just documentation – manage your Management System, not just the documents that explain how it works
If you are interested in the QMS approach to managing your Management System and its documentation, contact a member of our team on 01603 573558 or email [email protected] and we'll be happy to talk you through your options.
Originally published on Monday, August 7th, 2017